UA Campus
Virtual Tour of UA Campus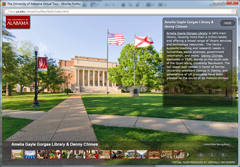 So, you are thinking about heading to the University of Alabama, well great choice!  As the more than 700 alumni families in the Tallahassee area will tell you, choosing to live and learn at the University of Alabama will forever change your life. From the day you set foot on our more than 180 year-old campus you will fall in love with the rich traditions that make the University of Alabama one of the nation's most sought after institutions of higher learning and academic excellence.
But while we welcome and encourage you to ask questions about our experiences and educations, you certainly don't have to take our word for it. Why not see for yourself what the campus is like by taking the virtual tour?
Virtual Tour of Arts & Sciences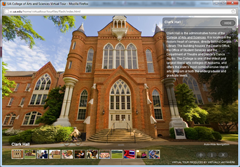 If you know what you hope to study while at UA, then you are already ahead of the game, but if you haven't yet figured it out, stay open to the opportunities that present themselves. Research suggests that 80% of college bound students don't know what they will major in, and even once that major is declared, 50% of students change their major at least once during their college careers.
So, while you are working it out, spend some time in the College of Arts & Sciences expanding your understanding of the world around you. Science and humanities courses count to your core credits, so you've got to take them anyway. Keep pace toward graduation while you determine the education that will be right for your career.